ABOUT US
Taught By An Instructor Who Understands
Teenage Students and Relates To Parents Concerns
Michael Studelska, MR DRIVERS ED's owner and instructor, has over 30 years of experience teaching Driver's Education. Mike is a recent retiree from the Cedarburg School District where he taught Driver's Education and Technology Education for 28 years. He earned his bachelor's degree at UW-Platteville. He graduated with a major in Technology Education and a minor in Traffic Safety. Later, in 1994, he earned his Masters of Education degree from National-Louis University. He is the best qualified instructor in the Cedarburg/Grafton area to teach your teen how to drive.
Over the years Mike has perfected methods of teaching the skills of driving while making his students feel comfortable and at ease in both the classroom and in the car. When teaching Behind the Wheel with a student one-on-one, Mike has a manner that relaxes the new driver so that more learning can be accomplished. The classroom sessions are interesting, informative, and fun.
If your teen's safety is a priority, you owe it to yourself and to your teen, to enroll your loved one in classes with Mr. Driver's Ed. The quality of instruction is second to none.
CONTACT MR. DRIVERS ED TODAY AT 262-388-3825 OR
mrdriversedllc@gmail.com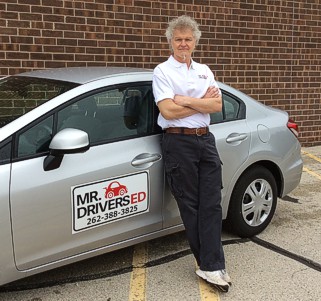 Professional, friendly and reliable Mr. Driver's Ed is fully licensed by the State of Wisconsin Department of Transportation to provide teen driver education.